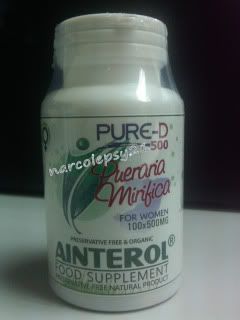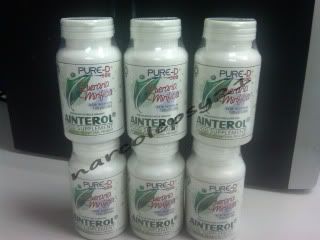 500mg pueraria per capsules!
RM75

WHY AINTEROL?
1. Increase secondary feminine characteristics in women (hips, breasts)
2. Improve Skin on body and face (even helps clear acne, psoriasis, and other skin conditions)
3. Increase hair growth on scalp and promotes shinier hair
4. Slow and lower the appearance of wrinkles – it's a strong anti-aging agent
5. Reduce symptoms of Menopause including hot flashes, night sweats, insomnia, and others)
6. Increase Blood Circulation (especially to breasts)
7. Helps the body store calcium
8. Increase vaginal moisture
9. Improve sex drive
10. Increases mental clarity
11. Be a Rejuvenating and Invigorating Body Tonic
12. Increase strength and length of nails
13. Provide an all over 'feminine glow'
14. Reduce risk of breast cancer, colon cancer, osteoperosis, cardiovascular disease, and high cholestrol
If you're looking to…
1. Achieve 1 to 3 Cup Sizes of breast growth in just 3 to 6 months
2. Firm and perk up saggy breasts
3. Continue the development and activate the growth of underdeveloped breasts
4. Stimulate growth in your milk ducts and cause your body to send more fatty tissue to your breasts for a softer, fuller look and feel
5. Use one of the most potent, purest, and safest sources of Pueraria Mirifica for the best results possible
6. AVOID allergic reactions to Pueraria Mirifica like nausea and headaches
7. Gain the fullest, sexiest, and most attractive bust that makes you look gorgeous in dresses, bikinis, tank tops, low-cut tops, and of course a-la-naturale
THEN GET 1 BOTTLE AINTEROL!
AINTEROL HAD CONSUME ALL OVER THE WORLD!FEW TESTIMONIALS
"Best such product I've ever used. Works and gives me a total satisfaction. 10 STARS "

"Ainterol Pueraria Mirifica Capsules helped me increase my breast size by a whole cup size in just 8 weeks, even though I didn't even take all of my dosages!

I never thought that I would really find something that would naturally increase my breast size and I'm too health conscious to get implants, so trying Ainterol was my last ditch effort, after trying other products that made me sick. I didn't have any bad side effects with Ainterol, even though I'm really sensitive and I look and feel better than ever.

I've recently been starting a new Ainterol Pueraria Mirifica regimen because I didn't even complete the regimen the first time. And after just 2 weeks I'm starting to feel the effects all over again. I'm crossing my fingers for one more cup size increase, and my skin is feeling really soft already. Thanks for producing great products at a low price that I can afford!" Gratefully, Kristina B.
"I cried when I finally went bra shopping for bigger bras because of the growth I got with Pueraria Mirifica! I actually went from a small B Cup to a full C Cup in Just 90 days! I also got 3 new bikinis and hit the beach. And the crazy part about it is that I wasn't even taking it like I was supposed to, this stuff is powerful! A whole year later my breasts are still a sexy C Cup, perky, and my husband loves this and several other surprising changes. My extra vaginal lubrication has been fun for our love-life, my hair is so much shinier, and my skin has never been so soft. I'll be stocking up on Pueraria Mirifica!" Kristine M.
I've gained a full cup size in the past 47 days...

"Kristine, thank you so much for all your information, help and support. You're really smart and your E-book completely laid out the perfect breast growth regimen. I had tried so many different regimens over the past 6 years but I got on the regimen you recommended in your book and I've gained a full cup size in the past 47 days!" Eileen P. Brisbane, Australia
I've got over 2 inches of growth with PM!

"Other herbs didn't work but I've got over 2 inches of growth with PM. You were right Kristine. My husband loves the results, my friends are jealous, and I'm more confident than I've ever been in my life. I'm making another order real soon and I need that E-book." C J, New York.
Announcement:
Currently no stock. Can pre-order where need to pat fully payment. For pre-order, I will give RM5 discount :D
Pre-order will start 6/7 - 13/7. Submit the order after 13/7. :D